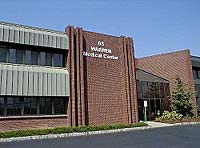 The Eye Center of Warren
65 Mountain Blvd.
Warren, N.J. 07059
(732) 356-6200
Office Hours
Mon. 8:30 am to 5:00 pm
Tues. 8:30 am to 5:00 pm
Wed. 8:30 am to 5:00 pm
Thurs. 8:30 am to 8:30 pm
Fri. 8:30 am to 5:00 pm
Sat. 8:30 am to 12:00 noon
Eye Doctors in Warren, NJ
At The Eye Center's convenient Warren location, our highly trained eye doctors and ophthalmologists are here to serve patients in the greater Warren, New Jersey area. If you are searching for an eye doctor for yourself or for the entire family, be sure to contact The Eye Center.
We offer Low Vision Exams for those whose vision is no longer responding to a change in eyeglasses. Our low vision exams involve checking for the premier eyeglass correction that goes above and beyond ordinary eyeglasses and introducing vision aids to be used alongside the best eyeglasses available.
Cataract Surgery is the best way to treat Cataracts effectively. An artificial lens called an intraocular lens (IOL) is used to replace your eye's natural lens. We are happy to offer two different types of cataract surgery, traditional and laser refractive cataract surgery (LenSx). Schedule an appointment today to discuss what cataract surgery is best for you!
While vision loss from glaucoma cannot be restored, there are treatment methods to slow its progression. Some of the treatment methods include eye drops, laser procedures, or surgery. However, the best way to combat glaucoma effectively is through early detection. Make sure you're getting routine eye exams to check if you are developing glaucoma!
Diabetic Eye, Macular, and Retina Services:
We offer treatment options for Diabetic Retinopathy, Macular Degeneration, Flashes & Floaters, Uveitis, and Retinal Tears & Detachments. For more information on these treatments, schedule an appointment today!
Some of the cosmetic procedures we offer at the Eye Center include:
Upper lid blepharoplasty

Lower lid blepharoplasty

Cosmetic ptosis repair

BOTOX

Fillers

Latisse

And an Eclipse MicroPen
For more information on cosmetic procedures offered, schedule an appointment with Dr. Susan R. Carter today!
Dr. Susan R. Carter also offers reconstructive procedures like blepharoplasty, ptosis, ectropion & entropion repair, and eyelid reconstruction procedures.
We also offer dry eye, wet eye, thyroid eye disease evaluation and management, and facial palsy treatment.