We have a fully stocked Optical shop in each of our offices with licensed Opticians to assist and guide you with your selection of prescription eyewear. Optical Associates, LLC carries a wide range of brands and frames to meet your every need. We are constantly updating and expanding our selection.
Our opticians will help you navigate your selections by teaching you about the different options available. There are options available for:
Lens Types
Lens Materials
Lens Treatments
Our dedicated staff is here to assist you with finding the perfect fit. We provide a one year warranty on all frames purchased in our Optical shop.
---
Lens Types
Single Vision: this all-purpose lens is available in all materials, and can be used for either distance or near vision correction.
Multifocals: will be suggested when both distance and near correction are needed together in a single lens.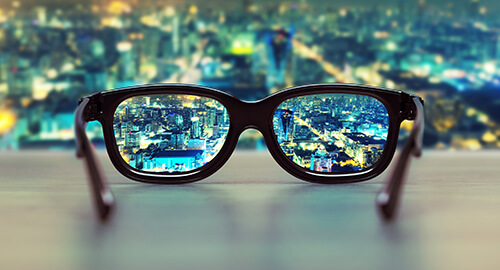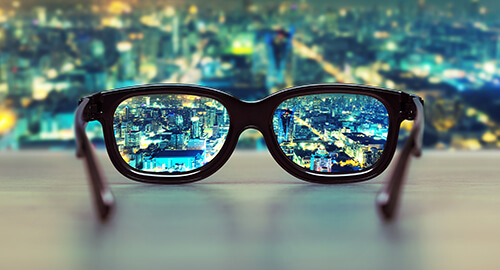 No-line progressives: correct for far (driving a vehicle), intermediate (viewing the dashboard), and near (reading a map) vision all in one lens. Because there is no visible line, progressives have the appearance of single-vision lenses and are, therefore, the most cosmetically desirable multifocal. Progressives are available in all lens materials.
Bifocals: provide both far (driving) and near (reading a map) correction in one lens.
Trifocals: are basically progressive lenses with visible lines. The majority of the lens is for distance viewing, while the center portion is divided into intermediate and near-viewing segments.
Computer lenses: these lenses help correct vision for the specified distance your eyes are from the computer screen and the immediate surrounding vicinity. A variety of computer-specific lenses include special filters, tints, and anti-reflective properties.
Sports lenses: come in many designs, colors, and treatments for every sport. Safety is key with sports eyewear, so tough polycarbonate lenses are most commonly recommended.
Sun Lenses :should always be ultra-violet (UV) protective.
---
Lens Materials
Our Opticians will recommend the best choice based on individual needs.
Hard Resin (plastic)
Conventional hard resin lenses are half the weight of glass lenses and can be tinted to almost any color and density. Hard resin lenses are more easily scratched than glass but can have an optional scratch protection applied. They are more impact resistant than glass.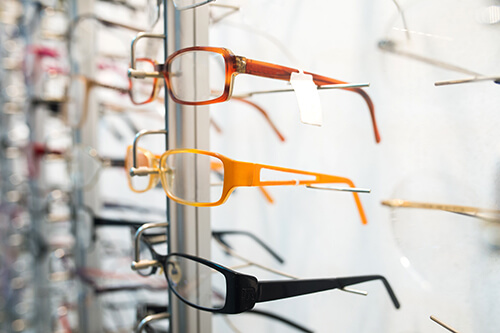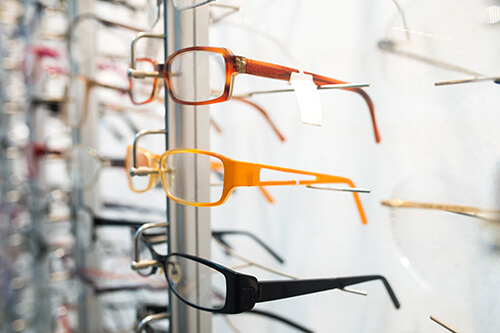 Lighter, Thinner Lenses
Modern technology has created lenses that bend light differently so that stronger corrections are thinner than when made in conventional materials. Such lenses are called "high index" producing stronger corrections that are more attractive because they are slimmer. High index plastic uses less material so they are often lighter in weight. High index lenses absorb all harmful UV light and can be tinted to any shade or color.
Lenses that Darken in the Sun
There are lenses that darken as you go from indoors to outdoors. They are available in glass, hard resin and polycarbonate. Originally made to darken to a moderate shade, new versions are available that darken to a true sunglass. Ask for a demonstration of these lenses.
Polycarbonate
Polycarbonate lenses are the most impact resistant lenses available and are always the lens of choice for young people and active patients. Polycarbonate lenses are high index and usually provide the lightest, most comfortable lenses. They absorb all harmful UV light and can be made ultra-thin because of their unique strength.
Glass
For years, glass was the only lens material available and glass still offers superior optics and is the most scratch-resistant material. The primary disadvantage of glass is its weight, generally twice that of hard resin. Glass lenses are heat or chemically tempered to increase impact resistance but can be dangerous if they break. We are very selective as to who can wear glass lenses. We do not recommend fitting children with glass lenses as they can be a safety hazard.
---
Lens Treatments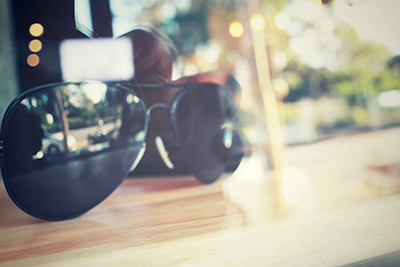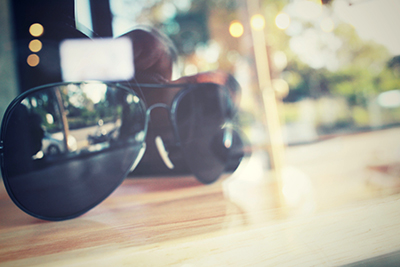 Tell our Opticians about your specific work or leisure visual requirements and they can design the best for your individual visual needs.
UV protection – the sun's ultra-violet rays pose potential harm to your eyes. UV protection on lenses accomplishes the same thing as sunscreen lotion on your skin – it shields your eyes from harmful ultra-violet rays. Plastic and glass lenses may require UV coating, while high-index and polycarbonate lenses provide UV protection inherently in the lens material.
Scratch-resistant coatings – recommended to protect lenses from everyday wear-and-tear. Some materials, such as polycarbonate, high index lenses, and several new plastic lens designs include scratch protection.
Anti-reflection coatings – dispensers suggest anti-reflective, or A-R lenses, to help reduce eye fatigue in all situations, particularly while viewing computer screens and driving at night. In addition to enhancing vision by removing distracting reflections, A-R lenses are cosmetically desirable, as the wearer's eyes are clearly visible behind the lenses.
Transitions® Lenses –are now available with Chromea7™ technology in a choice of colors, gray, brown and graphite green in Transitions® Signature™ and Transitions® XTRActive® lenses. Transitions® is also available in variable polarization that adjusts to the level of outdoor glare. The Transitions® Vantage™ lenses have a light tint indoors. The Transitions® Drivewear® lenses area polarized sun lenses that reduce glare and optimize color contrast. Color and darkness automatically adjust to changing light even behind the windshield and outdoors.
Tinted lenses – the majority of lenses can be tinted from light to very dark. Tints for sun lenses are usually medium to dark shades, and can be solid through the whole lens, or gradient, darker on top fading to lighter or clear at the bottom of the lens. Tints also come in a rainbow of color options.
Polarized lenses – are the top pick for eliminating glare. Hunters, boaters and fishermen, golfers, and drivers are a few who benefit from polarized lens' glare-cutting properties. Any surface can create glare in sunlight, including water, sand, snow, windows, vehicles, and buildings. Polarization eases eye stress and fatigue in the sun, and comes in several color and density options.
Mirrored lenses – not only look cool, they are cool. Mirrored coatings provide a reflective surface that makes the eye virtually invisible to viewers, while keeping the wearers eyes protected from glare and heat. Mirrors come in a variety of colors to enhance tints and visual performance.
Optical Shop Edison, Warren, Piscataway, NJ